Sweet and Sour Vegetables
APRIL 09, 2022
By CHEF KEN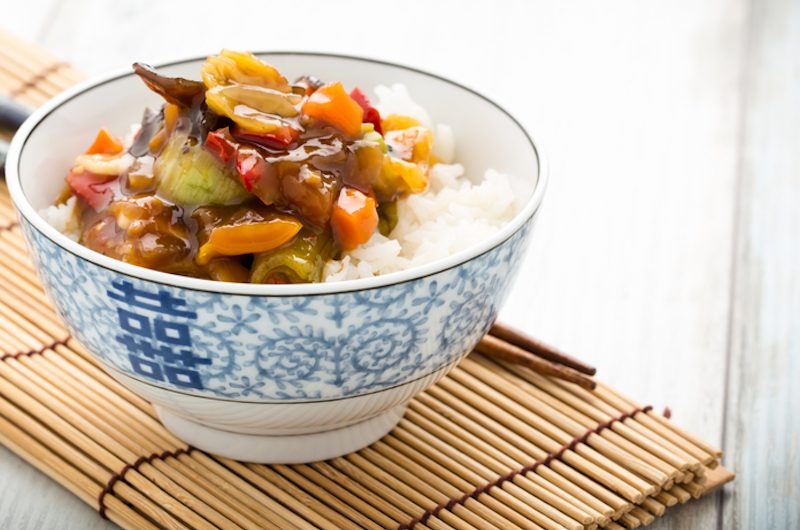 Yield: 4 servings as entrée (6–8 as side dish)
Serving size: 1 1/2 cups

A note from Chef Ken: At my former restaurant we served Sweet and Sour Dishes by preparing the components separately and combining them to order as requested. The menu offered Sweet and Sour Sauce with just Vegetables or with Tofu or Tempeh with Vegetables.

The beauty of these dishes is that all the pieces can be made in advance and chilled then assembled and brought up to temperature when the rest of the items are sautéed with the ginger and garlic. So, quick and easy meals are always within reach!

Ingredients
1 cup carrots, ½" pieces
½ cup onions, quartered and sliced
1 cup broccoli, 1" pieces
1 cup zucchini, ½ " pieces
1 cup sweet red peppers, halved and sliced
½ cup celery, sliced
1 teaspoon canola oil
½ teaspoon garlic, minced
1 teaspoon ginger, minced
2 cups sweet and sour sauce, (see recipe)
1 teaspoon black sesame seeds
Instructions
Bring a pot water to a boil. Add the carrots, onions, cook 3 minutes, add broccoli, zucchini, red pepper for 2 minutes, stir in the celery.
Drain off the blanched vegetables, saving liquid for stock if desired. Cool them with cold running water to preserve the color and stop the cooking process. Shake off the excess water and allow to drain well.
Return the pot to a medium heat and add the canola oil, garlic, and ginger. Saute for about 1 minute or until just starting to brown.
Add the blanched vegetables and toss well to coat and flavor with the ginger and garlic mixture.
Add the Sweet and Sour Sauce and cook until heated through.
Season to taste with pepper, and Low Sodium Coconut aminos. Black sesame seeds for garnish.
Serve over cooked noodles, rice or other grain.
Notes
If other seasonal vegetables are available, they can be added to or substituted.