Sweet and Sour Sauce
APRIL 09, 2022
By CHEF KEN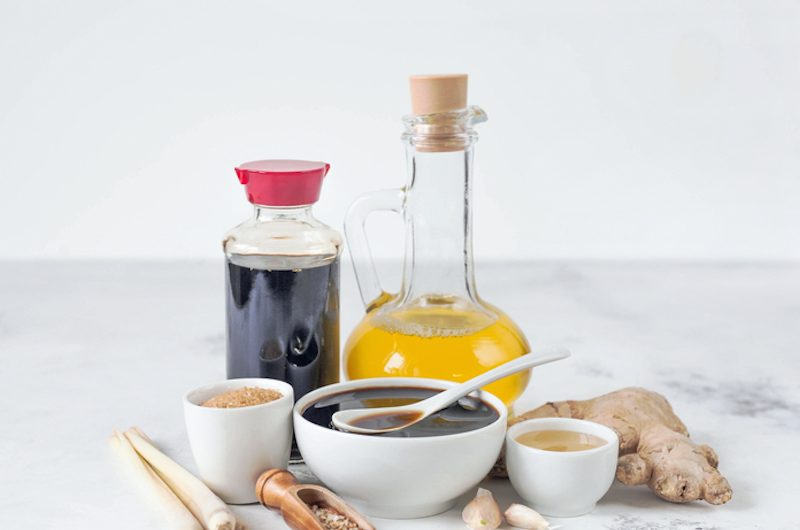 Yield: 6–8 servings
Serving size: 1/4 – 1/3 cup

A note from Chef Ken: At my former restaurant we served Sweet and Sour Dishes by preparing the components separately and combining them to order as requested. The menu offered Sweet and Sour Sauce with just Vegetables or with Tofu or Tempeh with Vegetables.

The beauty of these dishes is that all the pieces can be made in advance and chilled then assembled and brought up to temperature when the rest of the items are sautéed with the ginger and garlic. So, quick and easy meals are always within reach!

To create an entrée, pair the Sweet and Sour Sauce with cooked tofu, tempeh, or vegetables. The sauce can also be served over individual vegetables and cooked grains. Chick peas or cooked mushrooms are great additions, too!

Suggested pairings:

Ingredients
2 teaspoons garlic, minced
2 teaspoons ginger root, minced
1 teaspoon canola oil
1 ½ cups apple juice
2 tablespoons maple syrup
2 tablespoons apple cider vinegar
2 teaspoons prepared mustard
1 ½ tablespoons tomato paste
1 ½ tablespoons Low Sodium Coconut aminos
1 teaspoon toasted sesame oil
2 tablespoons arrowroot or cornstarch
2 tablespoons water
Instructions
Place garlic, ginger, and canola oil in a pan large enough for all ingredients.
In a bowl combine next seven ingredients.
In a small bowl dissolve arrowroot with water.
Place sauce pan over medium high heat and sauté ginger and garlic for about a minute or until they start to brown.
Quickly add juice mixture and bring to a boil. Simmer for five minutes.
Stir arrowroot mixture and then stir into sauce to thicken. Immediately remove from heat. Season to taste.