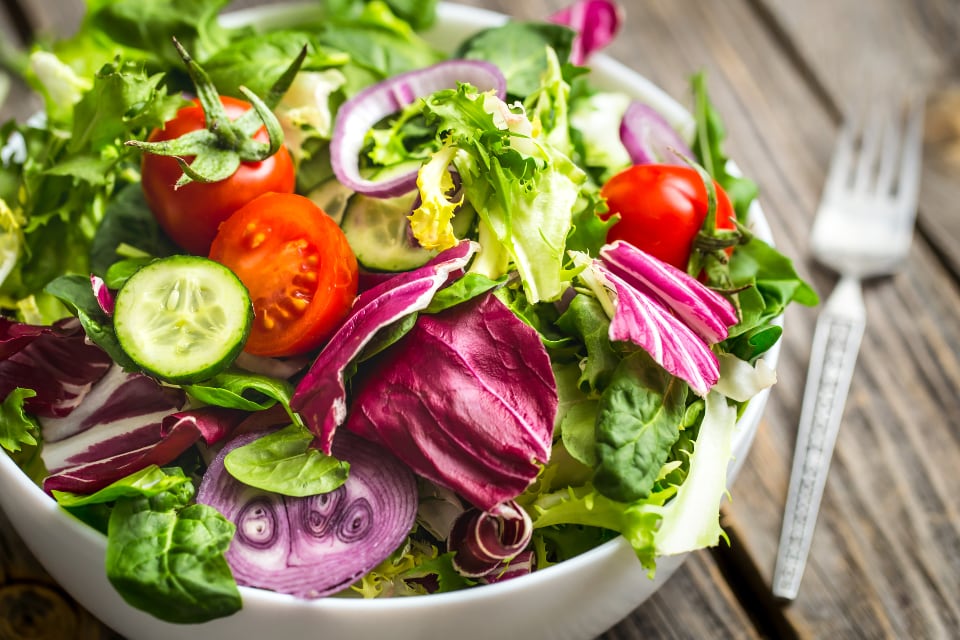 Choosing or Making Heart Healthy Salads
AUGUST 16, 2021
By THE CORMEUM TEAM
If you have heart failure, you've likely been advised to keep a close eye on the foods you eat and to try to make healthier choices. For most of us, the first healthy choice that comes to mind is "eating more salads."
And why not? Salads are generally made with nutrient-rich vegetables, after all. But beware! Some salad ingredients, particularly toppings, can be loaded with sodium, sugar and calories. The following list of things to watch out for may help you chart a healthier course.
6 Popular Salad Ingredients to Avoid
1. Creamy dressings.
Blue cheese, Caesar, Ranch and other mayo-based dressings are almost always high in sodium and calories. We recommend tossing your salads with one of Chef Ken's herb vinaigrette dressings, oil & vinegar dressing or a little lemon juice. They allow the flavor of the vegetables to come through more than heavy dressings and are very low in sodium.
2. Deep fried and/or breaded meats or seafood. 
Restaurants frequently offer fried chicken, fried shrimp and other add-ons. Problem is, they also add on a ton of sodium (not to mention calories). A better protein choice would be to ask for grilled versions.
3. Cheese.
Some cheeses serve up lots of sodium. If you want to indulge, feta or part skim cheeses like mozzarella or ricotta are better choices. When you are shopping, we recommend checking labels for sodium content.
4. Tortilla Strips or Chips.
Southwestern salads are tasty, but often include tortilla chips or strips as a topping (in some cases, they even offer a tortilla bowl). If you're watching your sodium, you'll want to leave them out. They are packed with sodium.
5. Bacon, deli meats and other prepared meats.
Cured meats are most often made using a salt brine. Bacon, ham and salami are the worst offenders, but there are others, such as roasted chicken or turkey (commonly called rotisserie style). Best to stick with grilled or poached meats instead. 
6. Canned foods.
Adding canned chick peas, artichokes or other vegetables as the crowning touch to your salad can come with an unexpected surprise — sodium. As with all prepared foods, salt is a primary ingredient. Even "low sodium" options may be relatively high. As always, fresh toppings like grated carrots, fresh peas, mushrooms, radishes, celery and tomatoes are always best. 
Have You Seen Our New Salad Recipes?
Award Winning Chef Ken Bergeron has been busy whipping up some heart healthy salads in the kitchen and we are thrilled to feature them on our website. See what's new!