Fresh Herb Vinaigrette Base and Blends
AUGUST 16, 2021
By CHEF KEN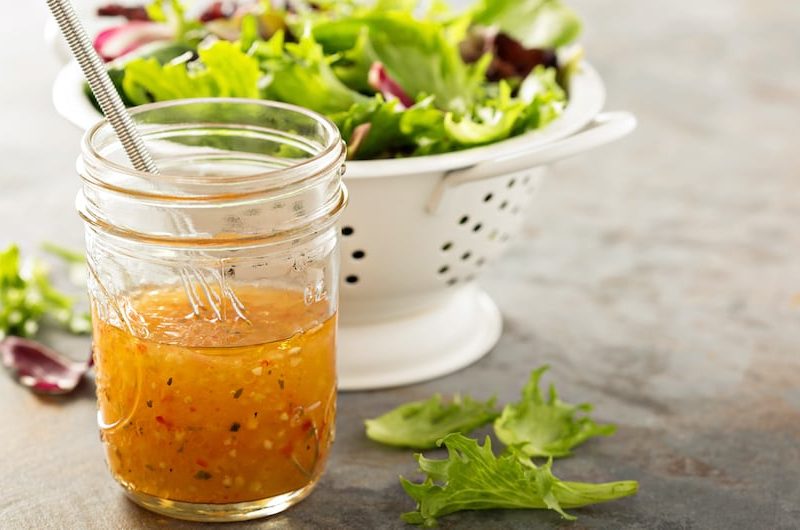 Yield: 1 cup
Serving size: 2 teaspoon

Because the acid in the dressing will "cook" the fresh herbs, and change their color, the base mixture can be made ahead, then adding the fresh herbs ½ hour before serving (see suggested choices of herbs below or try your own blends).

Ingredients
2/3 cup vegetable stock
¼ cup (2 fl oz,) red wine vinegar
2 tablespoons (.5 oz) shallots, minced
2 teaspoons cornstarch
Fresh ground black pepper (pinch)
1 ½ teaspoon prepared mustard, spicy brown
2 tablespoons extra virgin olive oil
½ teaspoon maple syrup
Instructions
In a small sauce pan whisk together the first six ingredients.
Place on medium-high heat and whisk continuously until mixture comes to a boil and thickens.
Remove from heat. Whisk in mustard then extra virgin olive oil.
Add the fresh herbs ½ hour before serving. Season to taste.
Notes
Variations: Use the Fresh Herb Vinaigrette Base recipe and the following herb combinations to make:

Basil Parsley Vinaigrette
2 tablespoons fresh basil, minced
2 tablespoons fresh parsley, minced
A touch of crushed garlic could also be incorporated.
Cilantro and Mint Vinaigrette
2 tablespoons fresh cilantro, minced
2 tablespoons fresh mint, minced
Chervil Tarragon Vinaigrette
2 tablespoons fresh chervil, minced
2 tablespoons fresh tarragon, minced