Tabouli Salad
AUGUST 16, 2021
By CHEF KEN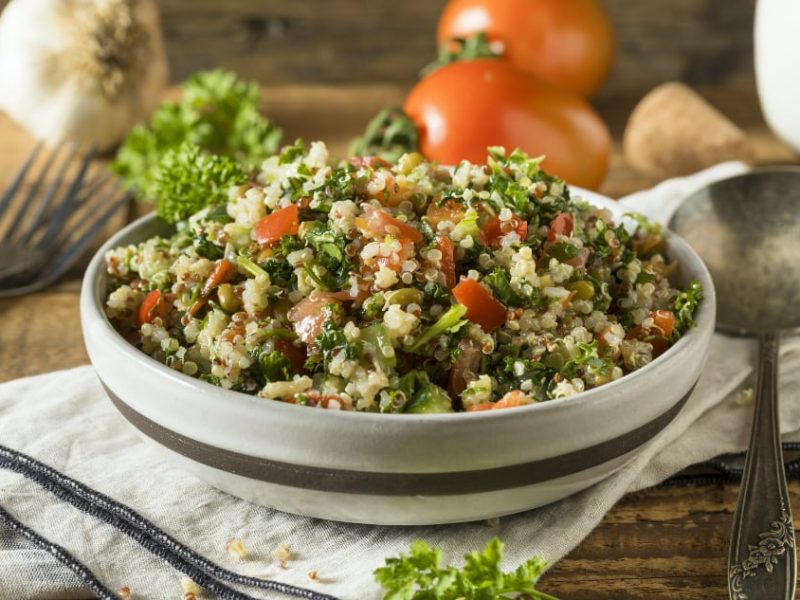 A staple in Middle Eastern countries, Tabouli is low in fat and a terrific source of fiber, minerals and complex carbohydrates. When shopping for ingredients, look for low sodium black olives. Lindsay is one nationally available brand that offers them.

Total Time
1 hour, 20 minutes
Ingredients
1 cup bulgur wheat
1 ¼ cups water
½ cup fresh minced parsley
¼ cup minced fresh mint
2 tablespoons lemon juice
pinch garlic powder
1 tablespoon extra virgin olive oil
¼ cup red onion, minced finely
¼ cup scallions, minced finely
pinch black pepper
½ cup diced tomatoes
½ cup diced cucumbers
2 tablespoons chopped olives
Instructions
Bring water and bulgur wheat to a boil.
Remove from heat. Let rest and cool for 30 minutes, so water will absorb.
Fluff with fork and chill.
Add remaining ingredients. Mix. Chill before serving.
Add a few drops of lemon juice or hot sauce for a boost of flavor. If desired, garnish with Toasted walnuts, cooked chick peas.