Sweet Potato Pecan Spread
FEBRUARY 24, 2021
By CHEF KEN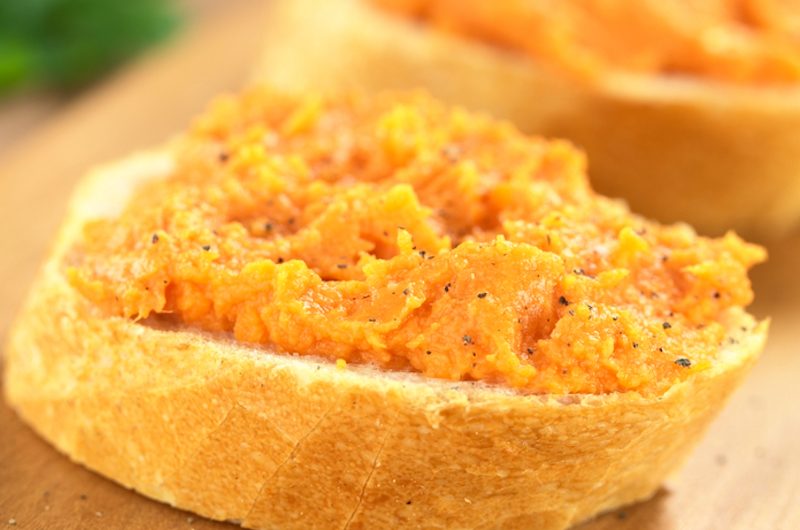 Yield: 2½ -3 cups

Southern menu favorites join together in this tasty topping. Preparation tip: Cooking orange vegetables (carrots etc.) with a little oil before simmering them helps the body's absorption of the beta-carotene a precursor to Vitamin A.

Ingredients
2 ½ cups (12 oz.) Sweet potatoes, large dice
1 teaspoon pure olive oil
cinnamon (pinch)
½ cup apple juice or apple cider
½ cup toasted pecans (plus extra to garnish)
black pepper
chives or parsley, minced
lemon juice, to taste
Instructions
Sauté sweet potatoes in oil over medium heat for a minute.
Add apple juice and cinnamon. Cover, lower heat and simmer twelve minutes or until sweet potatoes are very tender. Be sure all juice does not evaporate, add a little more if needed.
Allow vegetables to cool in pan for a few minutes.
Put sweet potatoes and the pecans into a food processor and process until smooth, scraping down the spread from the sides of the processor as needed. Season to taste with lemon juice and black pepper.
Chill before serving on bread or crackers. (Our Crostini is a tasty choice.)
Garnish: Garnish with minced parsley or chives and remaining pecans.
Variation: Process into spread one tablespoon white or red miso.