Sweet Potato Peanut Bisque
FEBRUARY 24, 2021
By CHEF KEN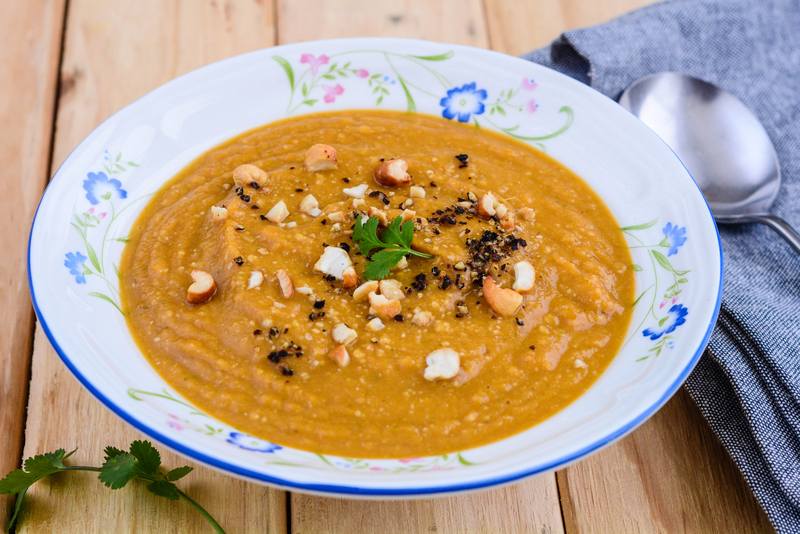 Yield: 4–6 servings

Cook Time
2 hours, 45 minutes
Total Time
3 hours, 5 minutes
Ingredients
1 cup onions, diced
1/2 teaspoon finely chopped ginger
1 teaspoon olive oil
4 cups sweet potatoes, peeled and cut into 1" cubes
4 cups low sodium vegetable broth (or water)
1 cup orange juice
1 tablespoon coconut aminos
1/3 cup unsalted peanut butter (smooth or chunky)
1 tablespoon maple syrup
Instructions
In a large soup pot, sauté onions and ginger in olive oil over medium heat for 10 minutes.
Add sweet potatoes and cook five minutes longer stirring often to prevent sticking.
Add water or stock, coconut aminos, cinnamon, and allspice. Bring to a boil and simmer for ten minutes or until the sweet potatoes are tender.
Remove soup from heat and stir in peanut butter.
Cool soup to room temperature and then blend in blender or food processor until smooth.
Reheat to serve. Season to taste (a pinch of cinnamon or curry powder will add extra zing).
Garnish with chopped unsalted roasted peanuts and a sprig of parsley or chopped scallions.