Roasted Vegetables with Orange Dressing
AUGUST 16, 2021
By CHEF KEN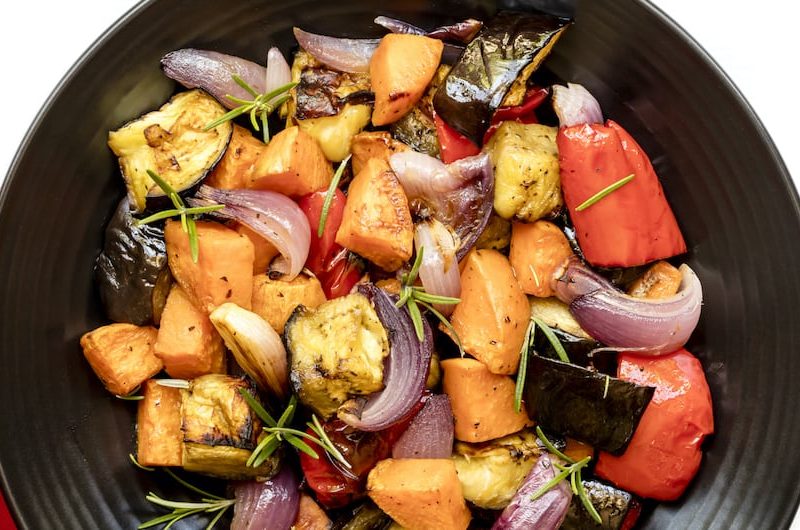 This tasty combination of roasted vegetables and a zesty orange dressing creates a marvelous side dish for all seasons. Use fresh herbs of choice or ½ the amount of dried herbs. The orange dressing can also be whipped up to serve over salads anytime.

Ingredients
Roasted Vegetables
2 cups carrots, peeled and cut into thin matchsticks or small cubes
1 ½ cups yellow squash, cut into thick matchsticks or small cubes
1 ½ cups green zucchini, cut into thick matchsticks or small cubes
1 ½ cups Spanish onion, halved and thinly sliced
1 cup red bell peppers, cut into thick matchsticks
2 cups red potatoes, cut in thin wedges
2 cloves garlic minced
¼ cup extra virgin olive oil
Ground black pepper
¼ cup chopped fresh herbs (we prefer basil, oregano and parsley)
Orange Dressing
1/4 cup orange juice concentrate
1/4 cup water
1 tablespoon extra virgin olive oil
1 tablespoon country style prepared mustard
Crushed black pepper (pinch)
Instructions
Roasted Vegetables
Toss all ingredients together in a large bowl, then place on a sheet pan.
Roast at 375 degrees for 15 to 20 minutes until all vegetables are tender.
Remove from oven, cool for ten minutes, place in a heat friendly salad bowl and toss with Orange Dressing.
Add a few drops of lemon juice or hot sauce for more flavor.
Orange Dressing
Whisk or blend together all the dressing ingredients.