Roasted Asparagus with Strawberry Dressing
FEBRUARY 24, 2021
By CHEF KEN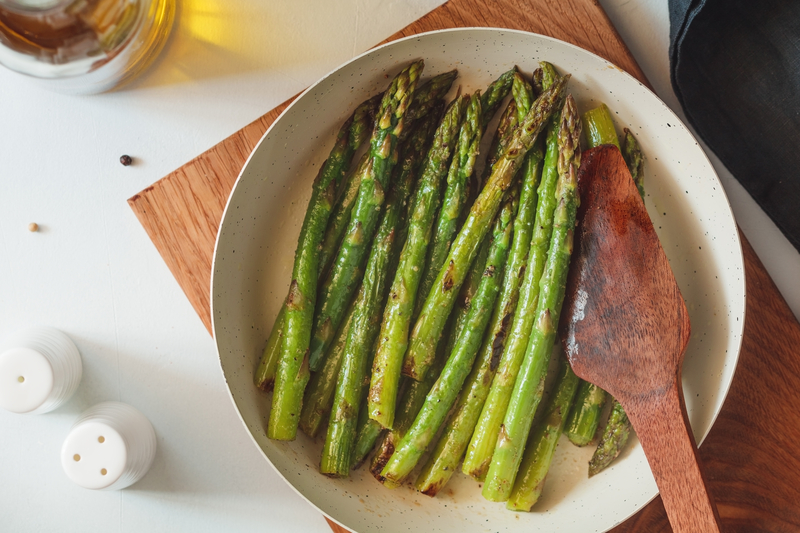 Yield: 4–6 servings

For this recipe, we recommend choosing asparagus with medium-thick spears. As always, the fresher, the better! Look for smooth, compact tips as an indicator of freshness.
In addition to serving with roasted asparagus, the refreshing dressing is wonderful served over mixed greens, fruit, or on raw, or cooked vegetables. Save a couple of strawberries and slice for a garnish!

Ingredients
Asparagus
2 lbs, asparagus
1 tablespoon pure olive oil
Coconut aminos (scant pinch)
Freshly ground black pepper, pinch
1 tablespoon black or white toasted sesame seeds (optional)
Strawberry Dressing
2 cups strawberries, washed, hulled, and sliced
1 tablespoon pure olive oil
2 tablespoons (1 fl oz.) red wine vinegar
½ cup (4 fl oz) vanilla soy milk
1/8 teaspoon coconut aminos
Freshly ground black pepper, pinch
1 tablespoon maple syrup
2 tablespoons basil, minced
Instructions
Asparagus
Heat oven to 450°.
Prepare asparagus by holding each spear firmly and snapping off the bottom end just where it will allow itself to break to yield the greatest amount of spear possible. (Alternatively, you can snap a few and use them as a guide to trim the ends of each bundle with a knife.) Reserve the stems for soup or stock. Generally, only the largest stalks need to be peeled.
Toss asparagus with olive oil, coconut aminos, and pepper, then roast on a baking sheet for 5 minutes per side or until tender. If you prefer, you can sauté the asparagus in a heavy bottom frying pan in olive oil over medium-high heat for about 2 minutes per side or until browned and tender and skip the roasting.
After the asparagus is cooked, remove from heat and sprinkle with coconut aminos and a dash of pepper.
Strawberry Dressing
Blend all ingredients except basil. Stir in basil. Season to taste.
Variation: Substitute tarragon vinegar or balsamic vinegar
Garnish and presentation
Drizzle ¼ cup Strawberry Dressing on each plate. Lay asparagus across the sauce.
Garnish plates with Spiced Strawberries.