Raja Style Flat Bread
FEBRUARY 24, 2021
By CHEF KEN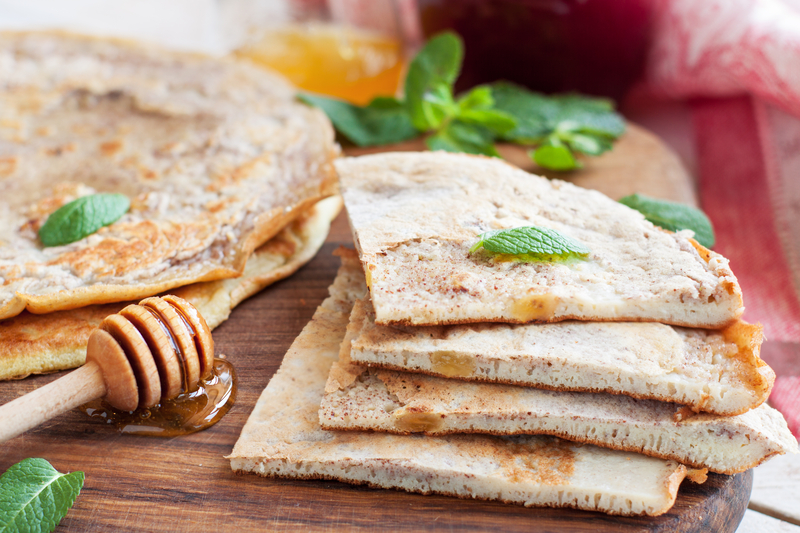 Yield: 5–6 flat breads

Featuring East Indian style spices, this tasty flatbread can be cooked on a griddle, under the broiler, or on a gas or charcoal grill.

Ingredients
Dry ingredients:
3 cups white all-purpose flour
1 cup whole wheat bread flour
2 teaspoons baking powder
1 tablespoon fennel seeds
1 tablespoon cumin seeds
1/8 teaspoon ground black pepper
2/3 cup onions, fine dice
Wet ingredients:
1 ½ cups Almond milk
2 tablespoons canola oil
Instructions
Combine dry ingredients in a medium-sized bowl and mix well. Add wet ingredients and mix until a soft dough is formed. Turn the dough out onto a floured surface and knead for a minute until smooth. Cover dough with a towel or plastic wrap, then let it rest for about fifteen minutes.
Divide dough into five to six portions, then on floured surface flatten and shape them by hand or with a rolling pin into a 6" circle.
Preheat oven to 375°.
Preheat a griddle or heavy frying pan on stovetop over medium heat. Lightly brush the pan with oil and then cook the flatbreads for about one minute on the first side or until golden brown. Then turn and cook on the other side for about a minute or until lightly browned.
Put all flatbreads on a baking sheet and place in oven for another few minutes to cook through. Keep an eye on the bread. It only takes a few minutes to fully bake them. Test for doneness with a toothpick, which will come out clean. Place breads on cooling rack immediately. When completely cool, breads can be wrapped in a plastic bag and stored in the refrigerator for a few days.