Quinoa, Brown Rice and Vegetable Salad with Apple Cider Vinegar Dressing
APRIL 08, 2022
By CHEF KEN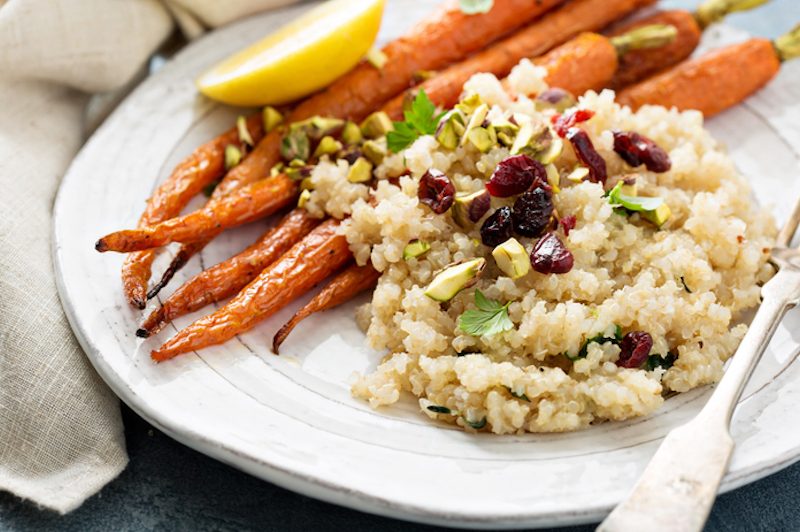 Yield: 4 servings
Serving size: 2 cups

For this recipe if you have leftover cooked rice (1 cup) or perhaps rice from Chinese or Indian takeout it will save up to one-half of the preparation time. Much of the packaged Quinoa these days comes labeled pre-rinsed. If yours is not, rinse in a strainer under cold water rubbing grains together to remove a natural bitter flavor that helps keep pests away.

Ingredients
For salad
4 cups water
¾ cup carrots, 1" pieces
1 cup broccoli, 1"pieces
¾ cup yellow squash 1" pieces
½ cup long grained brown rice
1 ¼ cups quinoa
1 tablespoons lemon juice
2 bay leaves
Pinch ground black pepper
½ cup pecans, toasted
1 tablespoon chives, minced
1 tablespoon mint, minced
For garnish
Mint leaves, whole chives.
For dressing
1 1/8 cups apple juice concentrate (defrosted)
5 teaspoons apple cider vinegar
4 teaspoons prepared mustard, coarse brown
3 tablespoons olive oil
Pinch crushed black pepper (to taste)
Instructions
Salad
Bring 4 cups water to a boil. Add carrots, cook for 2 minutes then add broccoli and yellow squash, cook until tender.
Drain over a 2-quart measure or another pot reserving cooking liquid.
If brown rice is needed, bring 1 ½ cups cooking liquid to boil add rice and bay leaf. Cover and simmer for about 45 minutes or until rice is done. When cooked, fluff, drain if needed and chill.
While rice cooks, bring 2 ½ cups cooking liquid (+ water if needed) to a boil, add quinoa, bay leaf, and pepper. Simmer for five minutes, then remove from the heat. Remove bay leaves.
Combine quinoa and rice, with the blanched vegetables, three quarters of the pecans, the chives, the mint and half of the Apple Cider Vinegar Dressing.
Garnish with remaining Pecans and herbs. Season to taste bearing in mind that more dressing will be drizzled over the salad at service time.
Dressing
Whisk all ingredients well.
Add few drops Low Sodium Coconut aminos for added flavor.