Orange Braised Butternut Squash with Ginger and Garlic
APRIL 15, 2021
By CHEF KEN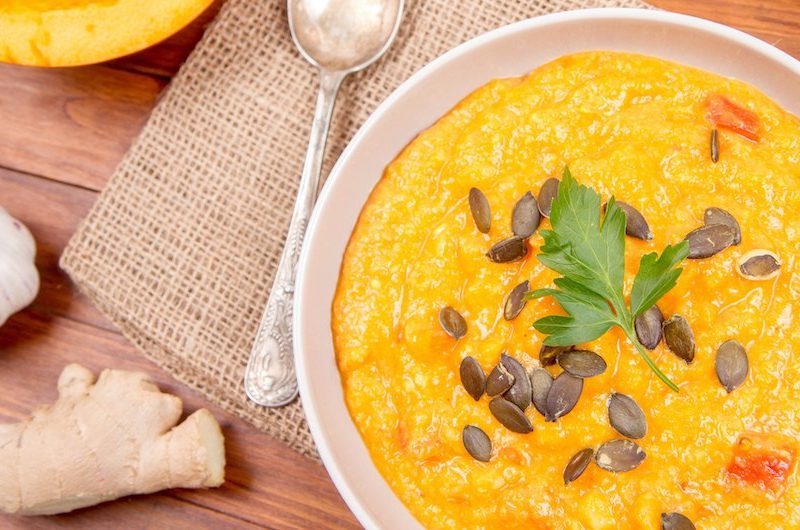 Yield: 4-6 servings

The orange juice enhances both the color and the flavor of this dish. Black sesame seeds provide great contrast to the orange squash but are sometimes hard to find, so white sesame seeds can be used as an alternative.

Ingredients
1 ½ teaspoons garlic, minced
1 tablespoon fresh ginger root, minced
½ teaspoons toasted sesame oil
3 ½ cups (1 – 1.25 lbs. unpeeled) butternut squash (1" cubes)
1 tablespoon liquid aminos
1 cup orange juice
Pinch ground black pepper (to taste)
1 tablespoon toasted black or white sesame seeds
Instructions
Sauté garlic and ginger in sesame oil over medium high heat for about thirty seconds.
Add butternut squash and sauté for another minute, shaking the pan or stirring once to encourage even cooking.
Add liquid aminos, orange juice and pepper.
Cover and simmer for ten minutes over medium heat or until the squash is tender.
Season with a few drops of lemon juice and or hot sauce to taste.
Serve chunky style or mashed garnished with the toasted sesame seeds.
Notes
Liquid aminos, commonly available in grocery and natural food stores, are a low sodium alternative to soy sauce that adds extra zest to soups, sauces and makes a delicious table condiment, too!