Maple Walnut Pecan Tart
APRIL 07, 2022
By CHEF KEN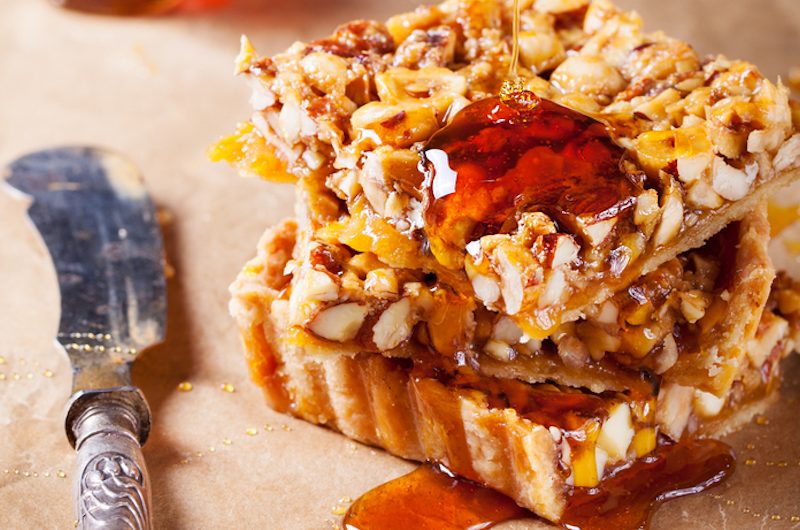 Yield: 8-10 slices

Use a 11″ loose bottom tart pan for this flavorful tart.

Ingredients
Crust
1 ½ cup roasted almonds
1 ½ cups rice crispy style Cereal
1 – 1 ½ tablespoons maple syrup
¼ cup apple sauce
¼ teaspoon almond extract
Filling
½ cup cashews
3 tablespoons cornstarch
½ teaspoon baking powder
¾ cup water
1 cup maple syrup
1 teaspoon vanilla extract
¼ teaspoon almond extract
1 cup whole walnuts
1 cup whole pecans
Instructions
Preheat oven to 375°F.
Make Crust
Put all ingredients into a food processor and process to a coarse mixture that sticks together.
Turn out crust mixture into 11" tart pan.
Evenly coat the bottom, then work the crust to be slightly higher at the edges.
Refrigerate crust.
Make Filling
Put cashews and cornstarch in a blender and pulse until cashews are finely ground.
Slowly pulse in the water.
With blender turned off, scrape down sides of blender with a stiff spatula as needed to push cashews back down near the blades.
Add next three ingredients and blend well.
Prepare Tart
Sprinkle walnuts and pecans into chilled tart shell so they are evenly mixed.
Place filled tart shell onto a thin baking sheet.
Pour syrup mixture into tart shell and push nuts down so they are evenly coated, then place shell (and baking sheet) in oven.
Bake for fifteen minutes at 375°F and then lower heat to 325°F for another fifteen minutes or until the tart is browned, firm, and slightly cracked on top.
Remove tart from the oven and allow to cool and settle before serving. Serve tart warm or at room temperature.