Hearty Black Bean Soup Pronto
FEBRUARY 24, 2021
By CHEF KEN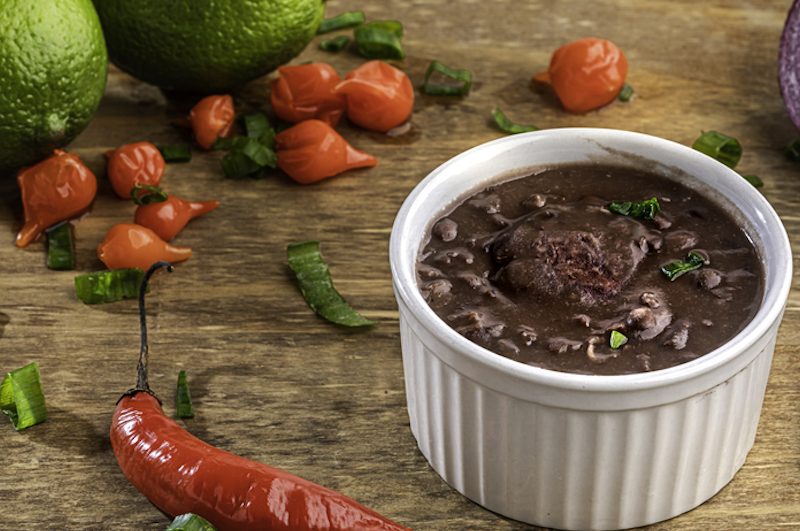 Yield: 2–4 servings

A delicious black bean soup that can be made pronto. What's not to like?

Ingredients
3 cups low sodium vegetable stock or broth
Bay leaf (large)
Kelp granules (a pinch), flakes (¼ teaspoon), or a postage size piece of whole kelp
1 ½ cups black beans, cooked
1 teaspoon olive oil
1 cup onions, finely diced
2 tablespoons garlic, minced
1 teaspoon cumin seeds
1/2 teaspoon coconut aminos
Ground black pepper, pinch
1 teaspoon prepared mustard
½ cup, chopped tomatoes, low sodium tomato sauce OR low sodium chunky salsa
1 teaspoon lime juice or balsamic vinegar
½ cup chopped parsley, cilantro, or Basil
Hot sauce, a few drops
Instructions
In a large pot, bring stock, bay leaf, and kelp to a boil.
In a heavy-bottomed frying pan sauté onions, in olive oil over medium heat for three minutes.
While vegetables sauté, stir cooked beans into a pot of stock and reduce heat to simmer.
To frying pan add garlic, cumin seeds, coconut aminos, and pepper. Continue to sauté, stirring often until garlic starts to brown and cumin seeds are just starting to pop, then add sauté mixture to soup.
Add mustard, tomato choice, lime juice or vinegar, and chopped herbs to the pot and bring to a boil. Simmer for 8-10 minutes. Season to taste.
Garnish with minced onions and chopped fresh herbs. (Finely diced fresh tomatoes, avocado slices and red pepper strips also make fine garnishes.)
Optional soup additions: Add 1 cup peeled and diced (uncooked) summer or winter squash to boiling soup pot water and/or add 1 cup kale to the sauté mixture when you add the garlic and cumin seeds.
Notes
Coconut aminos, commonly available in grocery and natural food stores, are a low sodium alternative to soy sauce that adds extra zest to soups, sauces and makes a delicious table condiment, too!