Easy Apple Cake Eva
FEBRUARY 23, 2021
By CHEF KEN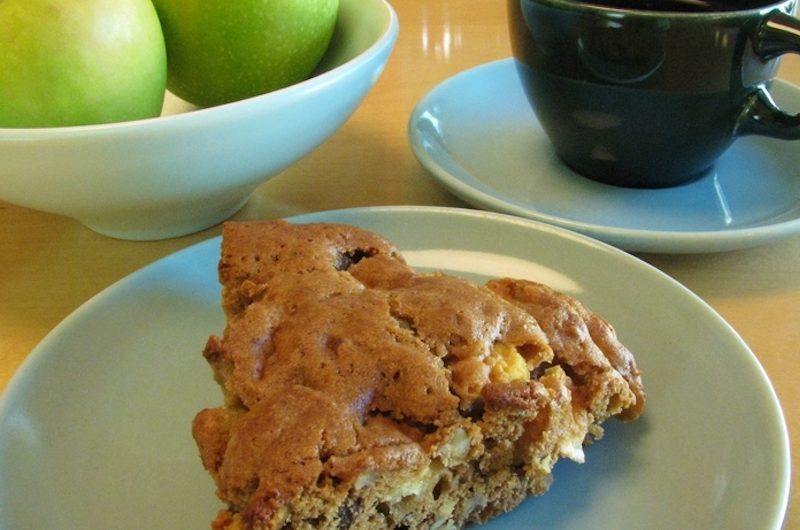 When my wife came home with a colleague's original version for this recipe I commented that it wouldn't work. After I admitted that I was wrong, I realized that the cake's dry top mixture is moistened by the steam given off by the fruit as it cooks and the bottom is moistened by the juices as they soak downward. The name honors my wife's coworker.

Total Time
1 hour, 30 minutes
Ingredients
Dry mixture
1½ cups Florida crystals (sugar)
1½ cups cream of wheat cereal
1½ cups all-purpose flour
1 tablespoon baking powder
¾ cup vegan margarine type spread
½ cup sliced almonds
Filling
6-7 grated Granny Smith apples (6 cups)
½ cup dried cranberries
Instructions
Preheat oven to 375°F.
Oil and coat a 10″ (25cm) spring form pan with plain breadcrumbs or flour.
In a bowl, combine first four dry ingredients.
Cut in soy margarine then use half of the mixture to evenly coat the bottom the bottom of the spring form pan.
Mix the sliced almonds with the remaining dry mixture and set aside.
Add the grated apples and the dried cherries to the spring form pan in an even layer.
Cover the fruit layer with the remaining almond cake mixture.
Cover pan with foil and bake for 30 minutes and check for browning.
Remove foil. Reduce heat to 300°F and continue to bake for another 25-30 minutes.
Allow the dessert a little time to cool and set before cutting. Best when eaten warm or at room temperature.