Chocolate Almond Tart
APRIL 07, 2022
By CHEF KEN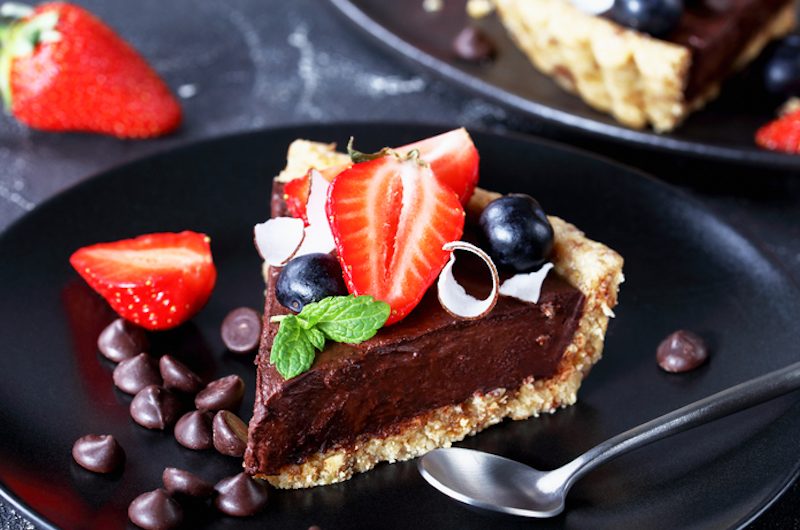 Yield: 10-12 slices

This recipe can be formed in an 8"or 9" spring form PAN. The smaller pan will produce a taller dessert.

Ingredients
Crust
1 cup toasted almonds
1 ½ cups rice crispy style cereal
1 tablespoon maple syrup
¼ cup apple sauce
¼ teaspoon almond extract
Chocolate Almond Tart Filling
3 cups chocolate chips, semi-sweet, dairy free
3 cups (24 oz) extra firm silken tofu
4 tablespoons maple syrup
2 teaspoons vanilla extract
1 teaspoon almond extract
Instructions
Make Crust
Reserve a few toasted chopped almonds for garnish, then put all remaining ingredients into a food processor and process to a coarse mixture that sticks together.
Turn out crust mixture into the spring form pan and evenly coat the bottom, making it slightly higher at the edges.
Make Filling
In a double boiler or a small saucepan nested in a larger saucepan filled partway, melt chocolate chips over barely simmering water.
As chocolate melts, put all other filling ingredients into the food processor and process until smooth.
Add the melted chocolate in with the rest of the filling ingredients, then process until completely incorporated. Taste mixture and adjust if needed.
Prepare Tart
Turn the filling mixture into the crust-lined spring form pan. Smooth top, cover pan and chill for two hours.
Chop reserved toasted almonds and sprinkle on top.
Use a sharp pointed knife, wipe with a damp towel between each slice to cut and serve. The point of the knife will help loosen the slices from the pan.
Optional: Reserve about 1 cup of the filling and chill. Put reserved chilled chocolate filling into a pastry bag fitted with a star tip and pipe decorations around the top edge of the tart. Chill to firm up piping work.