Broccoli Quinoa Pecan Salad with Orange Mustard Dressing
FEBRUARY 23, 2021
By CHEF KEN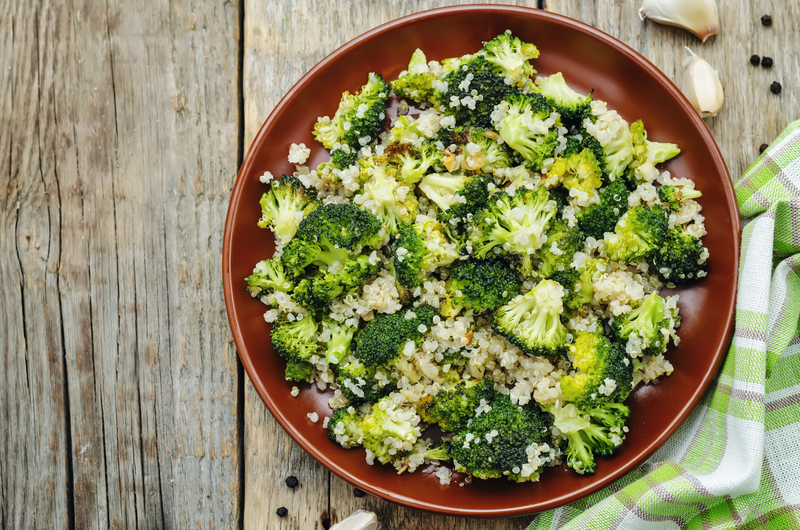 To fully enjoy this ancient grain from Peru, wash quinoa well rubbing the grains together to remove a bitter flavor that is a natural pest deterrent in its native environment.
Ingredients
For Salad
2 ¼ cups water
1 ½ cups quinoa, rinsed, per instructions above
1 large bay leaf
Ground black pepper, pinch
1 cup broccoli, cut into 1″ pieces and blanched
¾ cup carrots, cut into 1″ pieces and blanched
¾ cup yellow squash, cut into 1″ pieces and blanched
1 cup pecans, toasted
4 teaspoons chives, minced
4 teaspoons mint, minced
5 cups mesclun salad mix
For Dressing
3 cups orange juice
1 tablespoon prepared coarse brown mustard
1 tablespoon olive oil
Crushed black pepper, to taste
Optional
Instructions
Bring water to a boil, blanch vegetables one batch at a time, reserving water.
Prepare Salad
Blanching method
Bring water to a boil. Add broccoli. Cover pot. When water returns to boil, set timer to one minute. Remove broccoli with slotted spoon and place in medium bowl. Repeat the process, blanching carrots and yellow squash in separate batches of three minutes each, then adding to broccoli bowl.

Retain 1 ½ cups of hot water. Return to boil and add quinoa, coconut aminos, bay leaves, and pepper. Simmer for five minutes then remove from heat. Fluff with a fork and allow to cool. Remove bay leaf.
Prepare Dressing
Pour orange juice into a heavy wide-bottomed saucepan. Bring to a boil, lower burner to medium-low heat, then simmer slowly for about fifteen minutes or until juice is reduced by half. Swirl pan to wash down caramelized juice on the side and or scrape down sides with a wet spatula. Continue to reduce until juice achieves a syrup-like consistency. Whisk in mustard, olive oil, and black pepper. Season to taste. Add a little water or fresh orange juice to the dressing if it tastes too tart for your liking.
Prepare Salad
In a large serving bowl combine quinoa, broccoli, carrots, yellow squash, three quarters of the pecans, chives, mint, and 3/4 cup of Orange Mustard Dressing. Serve over mesclun mix. Garnish with remaining pecans and herbs.