Brazilian Style Greens
APRIL 07, 2022
By CHEF KEN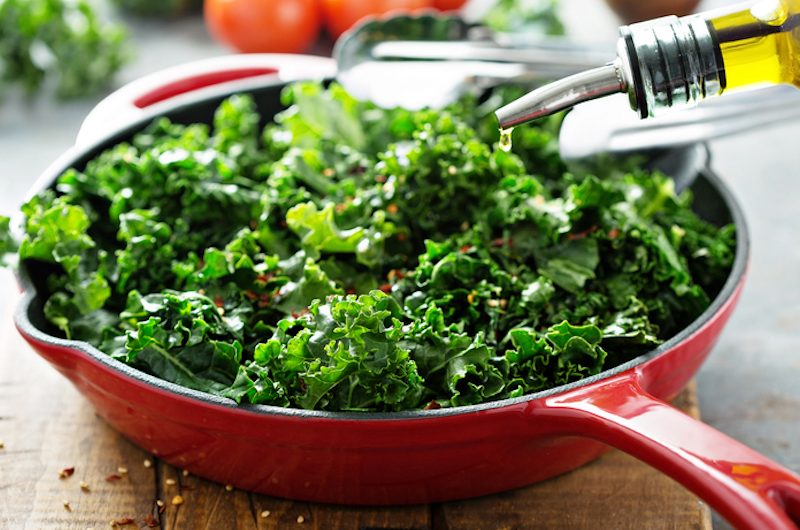 Yield: 6 servings
Serving size: 1 cup

Inspired by author Jessica Harris, who writes about Brazilian cuisine. Her recipe calls for Habanero or Scotch bonnet peppers — some of the hottest types of peppers available. My experience has led me to suggest using a less hot variety to avoid inflaming sensitive guests.

Ingredients
2 pounds kale or collards
3 tablespoons garlic, minced
1 jalapeño pepper, minced
2 tablespoons olive oil
2 tablespoons coconut liquid aminos
2 tablespoons fresh lime juice
1 tablespoon water (or as needed)
Pinch ground black pepper
Instructions
Preparation tip from Chef Ken: I thinly slice the thicker part of a stalk to taste test for tenderness. If it is too tough to serve, I save it to make soup stock or toss it in the compost bucket. Also, collards and kale vary in tenderness, with kale being generally denser. You may wish to blanch kale prior to sautéing.
Rinse kale or collards well.
Thinly slice the base of thin stalks (as mentioned above, large stalks should be discarded as they tend to be tough).
Thinly chop leaves. Set aside leaves and stalks.
Pour olive oil Into a heavy bottomed pan or pot and bring to medium high heat. Sauté garlic and minced pepper in olive oil until garlic just begins to brown.
Quickly add reserved greens and sauté for about one minute.
Reduce heat. Add coconut aminos, lime juice, and a little water.
Sauté for several more minutes or until the greens are wilted and tender, adding a small amount of water if needed.
Season to taste.