Braised Kelp, Carrot and Onion with Maple Syrup
APRIL 15, 2021
By CHEF KEN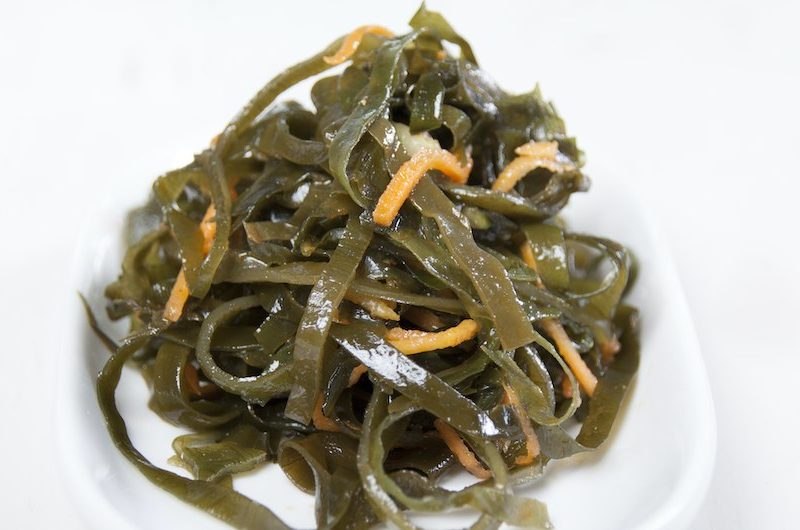 Yield: 3-4 cups

Kelp is one of the most widely consumed vegetables from the sea. It is rich in minerals and vitamins, and believed to remove heavy metals from the human body.

Try to purchase chopped kelp (available natural foods stores) which will ease the preparation. (I use Maine Coast Sea Vegetables brand.) You can also use fettucine style frozen kelp, found in some natural foods markets.

Ingredients
1 cup dry chopped kelp
2 cups water
2 cups carrots, 1/2" dice or julienne
2 cups onions, 1/2" dice
1 teaspoon toasted sesame oil
1 tablespoon ginger, minced
1 tablespoon San-J low sodium tamari
2 tablespoons maple syrup
1/2 teaspoon apple cider vinegar
Pinch ground black pepper
3 tablespoons toasted sesame seeds
Instructions
Soak kelp in water for 20 for 30 mins.
Remove kelp, reserving water for recipe.
For large pieces of kelp, julienne or cut to small squares or cut kelp with kitchen shears while dry. Caution: Kelp is slippery when wet, your knife may bounce.
Over medium heat, sauté carrots and onions in toasted sesame oil for five minutes.
Add kelp and ginger and sauté for five minutes.
Add all remaining ingredients except sesame seeds and sauté for ten minutes or until pan is dry.
Add about ½ cup of the reserved liquid and cook until the kelp is tender.
Garnish with sesame seeds. Season to taste.
Add lemon juice or hot sauce for extra flavor.
Nutrition Facts
Braised Kelp, Carrot and Onion with Maple Syrup
Serves: 4
Amount Per Serving:

8 ounces

Calories

144.35 kcal

% Daily Value*
Total Fat

4.84 g

6.2%
Saturated Fat

0.74 g

0%
Trans Fat

0.0 g

Cholesterol

0.0 mg

0%
Sodium

350.18 mg

14.6%
Total Carbohydrate

24.06 g

8%
Dietary Fiber

4.2 g

16%
Sugars

12.57 g

Protein

3.49 g
Vitamin A

56.73 %

Vitamin C

11.33 %

Calcium

15.3 %

Iron

11.31 %
* Percent Daily Values are based on a 2,000 calorie diet. Your daily values may be higher or lower depending on your calorie needs.