Basic Vegetable Stock
FEBRUARY 24, 2021
By CHEF KEN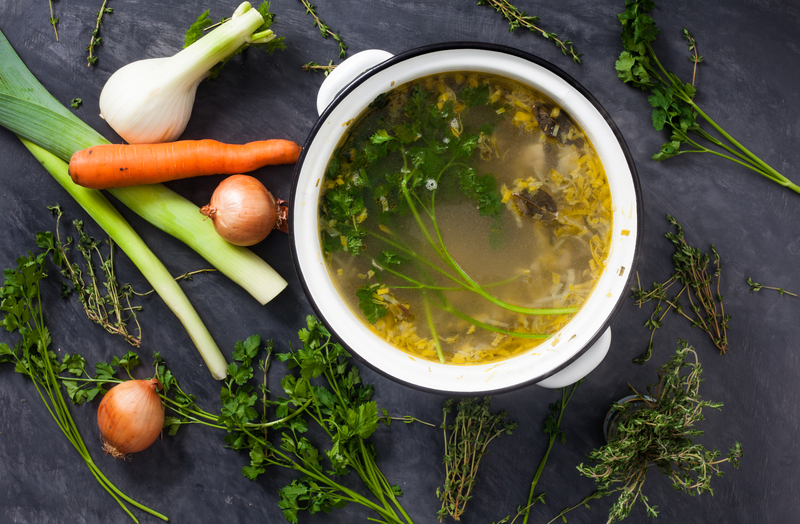 By first sautéing the mirepoix for the stock in a little oil, caramelization is developed which will yield an enriched stock. If less color or prep time is desired, simply boil and simmer the stock.

Total Time
1 hour, 25 minutes
Ingredients
1 ½ cups onions, coarsely chopped
1 ½ cup carrots, coarsely chopped
1 ½ cups celery, coarsely chopped
2 whole garlic cloves, bruised
1 teaspoon olive oil
1 sprig of thyme
2 bay leaves
1 teaspoon salt
2 black peppercorns
1 cup each vegetable peelings
¼ cup parsley stems
12 cups water
Instructions
Sauté the first four ingredients in olive oil over medium heat for about ten minutes or until browned. Add remaining ingredients to the pot and bring to a boil. Reduce heat and simmer for forty-five minutes. Vegetables should be well cooked. Strain off and discard boiled vegetables and other solids.
To add more body to a stock add a handful of red or green lentils or some yellow split peas or use some of the liquid that beans have been cooked in. This will add a slight thickness to the stock. The red lentils and yellow split peas can add a gelatinous texture and work well when combined with the herbs associated with stuffing, parsley, sage, rosemary, and thyme.
Fresh or canned tomato can also be used in stocks when they appear in the final recipe.