Avocado, Orange and Red Onion Salad
AUGUST 16, 2021
By CHEF KEN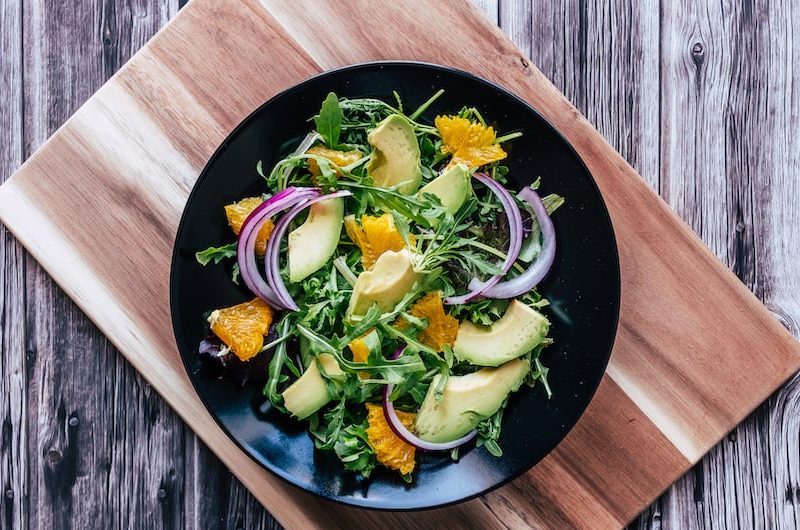 To ease preparation, use seedless varieties of oranges.

Ingredients
1 cup red onions, thinly sliced
2 tablespoons red wine vinegar
2 lb. oranges
3-4 avocados (8 oz each)
3 cups romaine, salad (washed and ready to serve)
3 cups leafy chicory salad (washed and ready to serve)
Instructions
Toss sliced red onions with red wine vinegar and sprinkle with ground pepper.
Set aside to marinate, tossing occasionally.
Peel and separate all but one of the oranges into segments. Cut segments into three or four pieces each.
Cut remaining orange in half. Save one half for a garnish. Squeeze out the juice from the other half into a glass or measuring cup. You will use this juice to sprinkle on the avocados.
Slice avocados in half lengthwise, remove pit, then peel. Cut the avocados into bite-sized chunks, place in bowl, then drizzle with juice from the reserved orange to help preserve avocado's fresh color. Toss with any reserved orange juice, then set aside.
Toss torn salad greens with about one third of the dressing.
Divide salad greens among plates. Place orange and avocado chunks on top, garnish with marinated red onions, and the reserved oranges segments and sliced avocados.
Drizzle each salad with about a teaspoon of the remaining vinaigrette.
Nutrition Facts
Avocado, Orange and Red Onion Salad
Serves: 8
Amount Per Serving:

1 cup

Calories

182.73 kcal

% Daily Value*
Total Fat

11.0 g

16.9%
Saturated Fat

1.6 g

5%
Trans Fat

0.0 g

Cholesterol

0.0 mg

0%
Sodium

12.32 mg

0.5%
Total Carbohydrate

22.03 g

7.3%
Dietary Fiber

8.69 g

32%
Sugars

11.98 g

Protein

3.1 g
Vitamin A

13.95 %

Vitamin C

80.08 %

Calcium

7.44 %

Iron

4.63 %
* Percent Daily Values are based on a 2,000 calorie diet. Your daily values may be higher or lower depending on your calorie needs.