A SOUPER Bowl of Chili
FEBRUARY 24, 2021
By CHEF KEN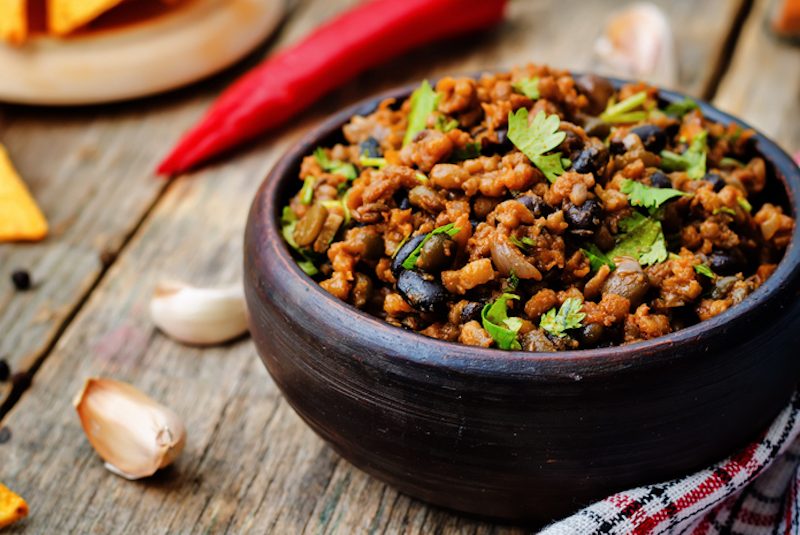 For America's Football Sunday or any occasion that calls for feeding a hungry crowd.

Total Time
1 hour, 25 minutes
Ingredients
4 cups onions, medium dice
3 cups green and red peppers, diced
2 teaspoons olive oil
1 tablespoon garlic, minced
1 tablespoon ginger, minced
3 cups low salt vegetable broth
28 oz. can fire-roasted no salt crushed tomatoes
2 veggie burgers, defrosted and chopped (or use crumbles, which are now available)
1–2 tablespoon chili powder
2 tablespoons ground cumin
1 teaspoon lemon juice
3 ½ cups cooked black or other beans
3 tablespoons dark chocolate chips (any dark chocolate chopped into chocolate chip size pieces will do)
Instructions
Sauté onions, peppers, garlic, and ginger in oil over medium-low heat for about ten minutes (until onions are translucent and peppers are soft). Stir in stock, then stir in all remaining ingredients except chocolate chips.
Bring to a boil, add chocolate chips and simmer for 45 minutes to 1 hour, stirring often to prevent sticking. Add extra vegetable stock if the chili becomes too thick. Season to taste.
For hotter chili: Raise the flavor and heat by adding ½ cup each sautéed Jalapeno peppers (or other hot peppers of choice), onions, and Italian frying peppers. Cumin seeds and/or a few drops of hot sauce can also be added to add some extra zip.
Nutrition Facts
A SOUPER Bowl of Chili
Serves: 10
Amount Per Serving:

1 cup

Calories

139.25 kcal

% Daily Value*
Total Fat

4.21 g

6.2%
Saturated Fat

1.3 g

5%
Trans Fat

0.0 g

Cholesterol

0.8 mg

0%
Sodium

281.88 mg

11.7%
Total Carbohydrate

22.12 g

7.3%
Dietary Fiber

6.14 g

24%
Sugars

10.37 g

Protein

6.02 g
Vitamin A

12.48 %

Vitamin C

83.11 %

Calcium

9.88 %

Iron

19.47 %
* Percent Daily Values are based on a 2,000 calorie diet. Your daily values may be higher or lower depending on your calorie needs.